Do you feel anxious or embarrassed when speaking English? Don't worry, this is quite common and normal.
It's always challenging to have a conversation in a language other than your native language. As opposed to your native language, a foreign or a second language – like English is to you – requires extra effort; especially, if you're not surrounded by it on a daily basis.
Moreover, as opposed to reading and writing in which you usually have some time to think and comprehend, in speaking you are under live pressure. Some say it is anxiety; some say it's shyness; others say it's the fear of being judged. Whatever the reason is, many experts justly argue that Speaking is the very last skill a learner may master when learning a new language – this is what the meme-image below illustrates.
This is why many students are often stressed about the IELTS Speaking test. While this study shows that alcohol (in moderation) helps speak foreign languages better, it is not recommended to drink before your IELTS exam for the obvious reasons – seriously, don't even try it 😅
Instead you can try these simple and effective ways to improve your English Speaking skills AND your IELTS Speaking performance.
1. Surround yourself with the English language
Expose yourself to English on a daily basis as much as possible. What I mean is that you need to listen to English every day. You can do this by listening to English radio and music. You should also watch movies or your favourite series or YouTube videos in English, with English subtitles if you need them. Find what interests you the most and watch the same over and over again. Most people find that they understand more each time. You will learn new vocabulary, idioms, slang, pronunciation, and even improve your listening skills.
Listening to English helps you become familiar with the rhythm and intonation of English. After listening you should imitate the sounds you hear so you can reproduce them while you speak. Observe how Dina, a native English speaker, talks in the IELTS Elephant course or in videos related to IELTS on YouTube. By doing this, you will see that the IELTS test will eventually become less challenging.
2. Sing along to English songs
Listen to music in English and sing along to your favourite English song. Music is one of the best and most enjoyable language learning methods to become more fluent and to learn how to use intonation in English pronunciation. Listening to songs and singing songs repeatedly will also help you remember vocabulary and phrases. If you think about it, a song stays in our mind much easier and faster than trying to learn and memorise isolated vocabulary!
Singing songs will also help you learn to reproduce English rhythm in a more natural way. By imitating the singer, you'll learn to pronounce phrases the way native speakers do.
3. Think in English
Thinking in your native language and then trying to speak English is actually a process of translation. Try to avoid translating because this is not an effective way to have a conversation – you are more likely to make grammatical mistakes and you may get stressed about not coming up immediately with the phrases and words you need. Translating in your mind is not an effective way to speak English.
Instead try to think in English. Practise by using English when you're thinking about your day, for example. It also helps when you learn new vocabulary to learn the meaning in English instead of looking up for the word in your native language. You'll realise that it's easier to speak English when you think in English.
4. Have a conversation with a native English speaker
Practising with a native English speaker will put you in a real Speaking situation. By doing this on a regular basis, you will soon get used to being under the "pressure" of having a real conversation in English and your fear of being judged will soon disappear. Of course, that will also help you have less stress during the IELTS Speaking test.
ake any opportunity you have to chat with a native English speaker. There may be a club in your area you can join. This is a great way to get to know people informally. If that isn't an option, consider hiring a private tutor. A lot of students choose the online lessons offered by IELTS Elephant. Not only will you practise your spoken English but you will also get assessed on your IELTS speaking performance by a trained IELTS examiner.
4. Focus on fluency
Challenge yourself to speak without stopping or stammering (taking pauses between your words) and avoid umm… errr… This makes you sound less confident and you will lose marks in the IELTS Speaking test.
Don't worry about grammatical mistakes. If you focus on speaking fluently instead of correctly, you'll still be understood and you'll sound better. In the IELTS Speaking test, you can still do well by speaking clearly and fluently and using expression.
5. Speak to yourself
Whenever you are alone you can improve English speaking by talking to yourself! Talk about anything e.g. your thoughts, your day. Simply speaking out loud will help you become more comfortable speaking English.
You can even use a mirror so it will make you feel like you're talking to someone – you can pretend you're having a discussion with a friend or…. the IELTS examiner.
Find more on YouTube!
Here are more ways specific to the IELTS Speaking test that will help you raise your IELTS Speaking band score.
You will have 11-14 minutes to show the examiner how much English you know. Use this time to demonstrate to him/her that you can talk at length using a variety of language features.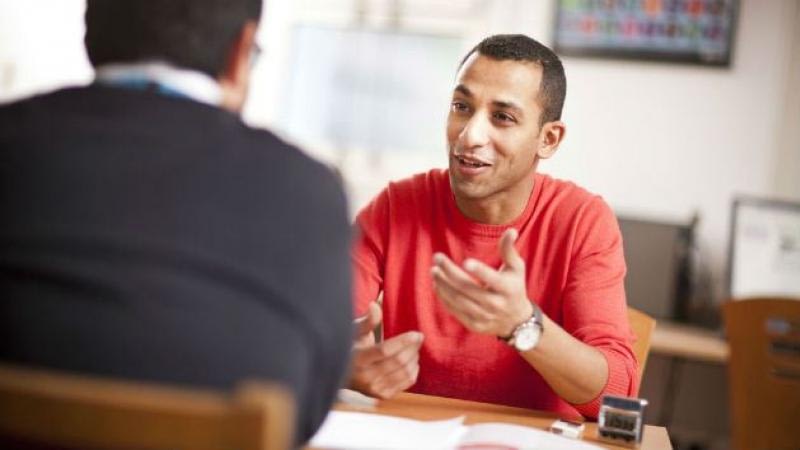 7. Speak at length
Don't worry about mistakes. You can still do well by speaking clearly and fluently and using expression. Expand your answer by giving reasons or more details.
Try to avoid silence and stammering. If you don't know what to answer, 'buy' time by using phrases like "Hmm that's an interesting question", "I've never thought about it but I believe that…".
8. Use discourse markers
Discourse markers are features of natural speech e.g. Well, Actually, Right, I'll tell you about…, Yes but…, Oh, let's see...
These phrases show fluency and that you're speaking English naturally and confidently.
9. Use interesting vocabulary
Avoid simple words such as good, bad, important. Use less common words such as concerning, alarming, crucial.
To build your vocabulary about common topics in the IELTS Speaking test, use the book with the IELTS Most Common Topics.
10. Use a range of grammar
a higher band score for your Grammar in the speaking test, you need to use a variety of language. One way of doing this is by using connected sentences- use words such as which, although, because to make complex sentences. Also, use a range of tenses to show you can talk about the Past, Present, Future and that you can use both Passive and Active voice.
Read the topics out loud in the IELTS Most Common Topics book and practise expanding the ideas using complex sentences in this book.
11. Record yourself
A final suggestion to prepare for the IELTS Speaking test is to record yourself answering common speaking questions and assess your performance for fluency, range of grammar and vocabulary.
For example, you can record yourself speaking for 2 minutes using the practice speaking Part 2 questions in this book.
Find more on YouTube!
So practice speaking English…
…and if you need more guidance for your IELTS preparation, check this complete IELTS preparation course. You will learn all the best IELTS strategies for Speaking, Writing, Reading, Listening as well as extra practice material. You can even get personal support and assessment with our online IELTS lessons.
Good luck!