Many countries are currently under lockdown to fight the spread of the novel coronavirus. Consequently, IELTS tests have been cancelled in many places around the world. In some other places, IELTS testing is going ahead, with additional precautions in place to help protect the health of test takers and staff. However, the situation is evolving quickly, and it is possible that tests may be suspended at short notice.
Therefore, we have collected all the official pages you can find up-to-date information regarding your IELTS test. Please remember to check these pages regularly since this situation is constantly changing.
1. Official IELTS list of suspended tests
On this page you will find a list of countries and IELTS test centres in which the IELTS tests are already suspended and a date of when the suspension is over. However, since no-one can predict what will happen in the near future, the given dates are not 100% guaranteed. This is why you need to check this page regularly.
2. British Council test centre
If you registered for your test with the British council, go to the official British Council page and select your country to read their response to the COVID-19 pandemic. You will read important announcements and the measures taken by the British Council regarding tests and lessons. If you have further questions contact them to ask questions specific to the location where your test centre is.
3. International Education Specialists test centre
If you registered for your test with the International Education Specialists, you can read their response to this outbreak here. If you need more information, you can contact your local IDP office.
So, what now?
We understand this is a difficult time, especially with so many unknowns. It seems that #stayinghome is the most efficient way to stop the spread of the virus. So try to stay home and keep your self and others safe.
You can find the latest information and advice regarding this situation on the World Health Organisation (WHO) website. Moreover, each country has different advice, so please make sure you are following official government sources for the latest information on COVID-19.
Apart from #stayinghome, our advice to you is to try to stay calm, keep a positive mindset and use this time to study and prepare for your future.
Use this time to study IELTS
If you are in a lockdown or your test has been cancelled, use this time to improve your IELTS skills and prepare to succeed in IELTS for your future. Even though these are uncertain times, don't waste your time – try to stay motivated and study at home. Don't forget your goal to grab the life-changing opportunities for international higher education and migration that the IELTS certificate provides.
What can help you stay motivated and study IELTS at home is the new IELTS Elephant course. This online course is a full IELTS preparation in just 6 hours. You will get a free eBook with extra practice material and you will learn everything you need to know to achieve a 7 or higher IELTS band-score.
You may also prepare at home for the IELTS Most Common Topics for Speaking & Writing using this must-have book* and send your essays for correction and feedback to an IELTS teacher & examiner at IELTS Elephant. Online lessons are available too. Just contact us for more information
So, there are many ways to stay focused on your goals and study at home in this challenging time.
* The course participants of the new IELTS Elephant course are eligible for 40% off after they download the free course book.
How to protect your mental health during COVID-19
As important as it is to #stayhome, #staysafe, #staymotivated and prepare for your future, it is equally important to look after your mental health in this hard time. Psychologists say feeling worried and anxious is normal in a crisis like this, but it can be managed. 
Here is some advice from a trusted psychologist, Veronica Savva.
1. Coronavirus pandemic will end
Spend time on self-care; focus on your goals, read and keep yourself active and motivated.
2. Communication is important
Share your thoughts and feelings with your family and friends. If feelings are so overwhelming, talk to a mental health practitioner.
3. Take a break from social media
Allow yourself to zone out from what's going on in the world. Uplift yourself by listening to music, cooking, keeping yourself active and planning your strategy for success.
4. Creativity is intelligence having fun
As Albert Einstein said creativity is the ability to perceive the world in new ways and to generate solutions. One of the most productive things to do while in quarantine is to expand your knowledge while remaining focused on your goals.
This period of time can be an opportunity to think of our priorities and do things for ourselves that are important.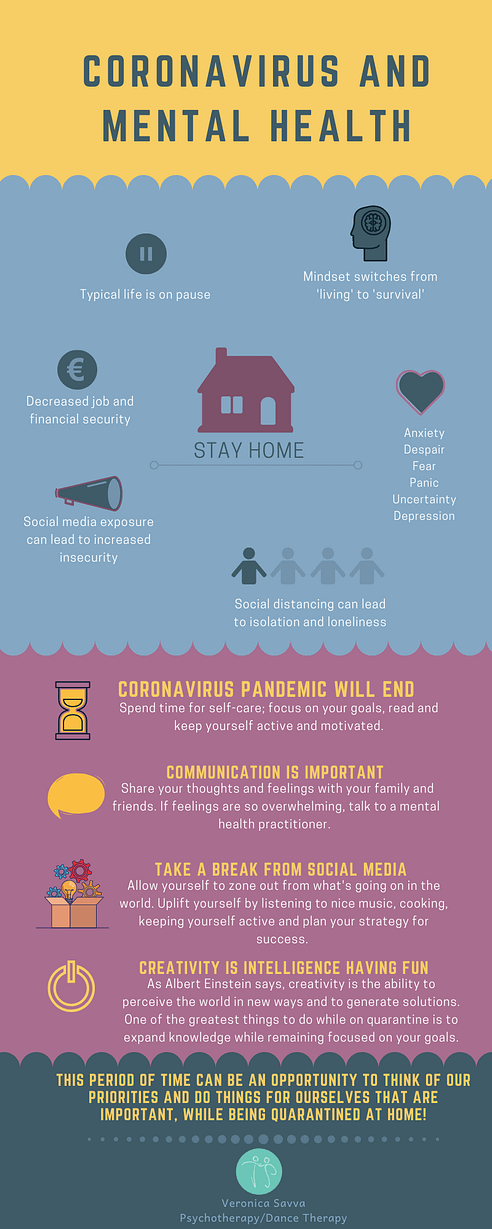 It's important to stay motivated in this challenging time.
Don't give up on your dreams, stay focused on your goals and use this time to improve your IELTS skills!
#inthistogether